Diane E. Watson is a Tireless Advocate for Health Care, Social Services, Education and Housing
---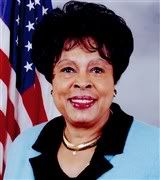 Diane E. Watson is a former representative for the United States Congress, and in her previous capacity, Ms. Watson honorably represented the 33rd Congressional District and its constituents, and implemented policies and procedures on health care, social services, education and housing. Ms. Watson consulted with the public and kept a close eye on the local government as well as foreign affairs. As an expert on the management of the health and education department, Ms. Watson utilized her proficiency in these areas, and knowledge gained from prior positions as a psychologist, professor and health occupation specialist, to champion causes that would encourage the progression of the great United States of America. Ms. Watson was re-elected to Congress four times, and she retired in January of 2011.


Ms. Watson received an Associate of Arts from the Los Angeles Community College District, and went on to receive a Bachelor of Arts in education from California State University, a Master of Science from California State University, Los Angeles, and a Ph.D. in educational administration from Claremont Graduate University. Ever committed to serving numerous causes that would benefit her country, Ms. Watson has continued to acquire skills that have contributed to the broadened development of such worthy causes as health care advocacy, and the withdrawal of U.S. troops from Iraq. With a deep-rooted past in the public school system, Ms. Watson has maintained a lifelong loyalty to the field of education, having built a legacy within the Los Angeles Unified School District Board of Education. She was the first African-American woman to serve on the board, and her endeavors to strengthen academic standards and to increase on school integration initiatives rendered her a renowned advocate for academic success among students across an array of populations.
Ms. Watson continues to strive for excellence in her professional pursuits, which encompass her goals to serve her community as a teacher, mentor and leader.
If you are interested in learning more about former Congresswoman Diane Watson, please contact her.